Ultimate Guide to Keyboard Shortcuts (Mac)
I think a lot of people (especially newcomers) really underestimate how useful it is to know your keyboard shortcuts well. They are absolutely imperative to my workflow both in and out of the studio, and I really can't emphasize enough how much faster they make almost every process. Oddly enough, it's really hard to find an actually complete list of shortcuts in Ableton, and I find myself stumbling across new ones all the time. Starting with Live, here are some of my go-to shortcuts I use to speed up some of my most common production processes:
Lesser Known Ableton Shortcuts:
Shift + tab
(toggles between clip and effects panel)
Command + shift + D
(duplicates region + moves everything behind it over to make room for the duplication)
Command + shift + del
(same as above but deletes region + moves everything behind it back to fill the gap)
0
(turns off selected clip / device / midi note)
Command + option + I
(displays in/out panel)
Command + option + F
(shows fades)
Shift + space
(continuous playback from stop)
Option + space
(plays only highlighted region)
Command + option + L
(show/hide bottom menu)
Option + click unfold button
(folds/unfolds all tracks)
Shift + left/right arrows
(lengthens/shortens midi note)
Command + 1
(reduces grid size)
Command + 2
(increases grid size)
Command + 3
(enables triplet grid)
Command + 4
(turns off grid)
Command + 5
(enables adaptive grid)
Shift + drag transient
(moves transient postion)
Shift + double click transient
(creates a warp maker AND puts warp makers on either side of the selection)
Shift + drag warp marker
(shifts clip audio)
Command + shift + W
(toggles secondary window)
Essential Common Ableton Shortcuts
Command + L
(loops selection)
Command + D
(duplicate)
Command + A
(selects all)
Command + E
(splits clip)
Command + J
(consolidates clip)
Command + ,
(opens preferences)
Command + I
(inserts warp marker)
Command + U
(quantizes selection)
Command + G
(group)
Shift + up/down arrows (shifts note by octave)
Option + click fade (creates curve)
Option + drag clip/note (duplicate)
Command + shift + R (renders selection)
While of course knowing these shortcuts will boost your efficiency in the studio, there's a lot of places outside of Ableton where keyboard shortcuts can save you a lot of time as well. Knowing these can help with anything from moving samples around more efficiently in Finder to streamlining the way you type.
My top Mac OS Shortcuts
Command + W
(closes current window/tab)
Command + Q
(quits current app)
Command + Tab
(opens task switcher)
Command + A
(selects all)
Command + N
(new window/document)
Command + F
(engages search/find function)
Command + option + esc
(FORCE QUIT)
Command + shift + 3
(takes screenshot of entire screen)
Command + shift + 4
(takes screenshot of selection)
Command + del
(deletes entire sentence)
Option + del
(deletes last word)
Control + command + D
(defines selected word)
Option + command + D
(shows/hides dock)
Command + shift + N
(creates new folder) [Finder]
Command + del
(moves selected item to trash ) [Finder]
Option + volume key
(opens sound preferences)
Option + brightness key
(opens display preferences)
BetterTouchTool
I know that's a lot to throw at you, but as someone who has been on Mac for years, I absolutely have to recommend BetterTouchTool to push your shortcut / gesture capabilities even further. It allows you to create any custom keyboard mapping that will function across the OS (unless you specify an app) as well as combine different keys and mouse gestures to activate a given function. This allows you to do all sorts of things, like remap some of the shortcuts I mentioned above for instance, or activate any number of useful functions with a simple 2 or 3 finger gesture on the mouse. The other thing that's sweet about this app is it allows you to use Windows-style edge snapping which lets you easily snap applications to the side at half size or fill the screen a window by dragging it to the top. I use this ALL the time for things like dragging samples into Ableton from Finder.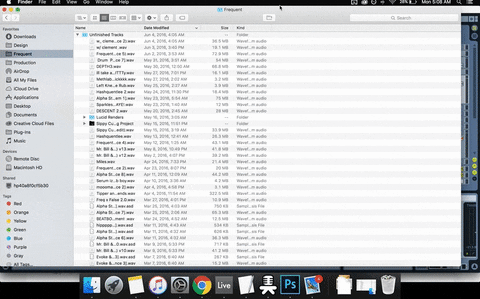 Let's take a look at a few of the settings I use in BTT. These are just a few of the functions I am using, and keep in mind that this app lets you program a gesture for just about anything on your computer you could imagine. You can download the full preset here and expand on it if you'd like!
I have no idea who built this program, nor do I have any incentive to advertise for them other than the fact that their plugin has significantly improved the way i interact with my computer. I consider BTT to be a must have, and although the software used to be free, it's now available on a donation basis for a minimum of $3.90 (which is absolutely worth it). Check it out on their site.
Hope you enjoy, and if there are any shortcuts you think deserve a spot on the list feel free to drop them in the comments below!
Like this content? Subscribe to my mailing list for monthly updates freebies and more